Noel Mitchell reports on his experiences at the 40th World Amateur Go Championship, in Matsue.
I was delighted to attend the 40th World Amateur Go Championship in Matsue, Japan as the Irish representative this year. It is actually the 30th time that Ireland has been eligible to participate (our first year was 1990 at the 11th WAGC which I also was lucky enough to attend).
In total there are now 77 countries that are members of the International Go Federation and are invited to participate, of which 59 countries sent representatives this year.
The players assembled in Tokyo on 30th May, and on the 31st May we travelled by plane to Matsue which is in the Northwest of Honshu, close to the coast on the Sea of Japan. Matsue is a very historic city, not very large (200,000 inhabitants), situated on a large lake with many rivers and canals. It is famous for its large castle which dominates the city (built in 1611 and restored in the 19th century) and for its many beautiful gardens and temples in the region.
We had a chance to do some sight-seeing on the 31st before arrival to our hotel.
On the 1st June we had the business meeting of the IGF followed by the International Goodwill Match with local participants, and then the Opening Ceremonies and Reception. In true Japanese style this had many speeches and traditional entertainment.
The tournament itself began on the 2nd June with two matches per day. With time limits at just one hour per player, nearly all games would run into overtime (which was 30 seconds x 3 times). Strange things can happen under pressure in byo-yomi.
My matches on the first day were against Pal Balogh of Hungary (probably the strongest European in the tournament) and Chile (who had just spent the previous three weeks in Japan at a Go school). Both were very long games, and I lost the first by resignation and the second by 4.5 points.
Day 2 I had a tough game against Azerbaijan, in which I killed a group but eventually resigned under pressure in overtime. I took a win that afternoon against Mexico in a really complicated fighting game in which we both made mistakes.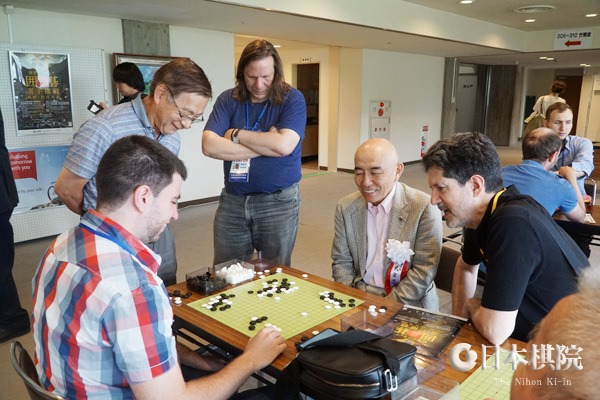 On day 3 I had a straight-forward win against Bulgaria and a disappointing loss against Slovakia from a good position. Two wins after 6 rounds left a lot to do for the last day.
The critical match for the tournament took place in Round 6 when China faced Korea:
The result was a half-point win for China in a see-saw game, and China would win the remaining games for an 8–0 record.
On the final day I had a good win against Austria although I got a bit lucky in overtime (I won on time after letting a win on the board slip away), followed by a win by 10.5 points vs Guatemala, to finish with four wins in 36th place.
Full results for the tournament are here: https://www.nihonkiin.or.jp/event/amakisen/worldama/40/result.html
1st place: China
2nd place: Korea
3rd place: Hong Kong
4th place: USA
5th place: Hungary
6th place: Canada
7th place: Ukraine
8th place: Japan
There were good final placings for Hungary and Ukraine from Europe, but a little bit disappointing for the young Japanese player (who is still in High School).
Singapore won the Fighting Spirit prize, finishing in 9th place with the distinction of having faced all of the top 6 place finishers!
On the 6th June we had a few hours of further sightseeing in quite hot weather, and the flight back to Tokyo for return journeys. Some people were extending their stays for holidays but I had to get back straight away, although I had a chance to see our friends Kumagai-san and Shiotsuki-san in Tokyo who send their best wishes to all of the Go payers in Ireland.