Need a Go set? Look no further — the IGA now has a stock of equipment for sale to members. Choose between two options: the Basic set, perfect for casual players; and the Tournament set, for players looking for something a little fancier that won't break the bank. The stock is held in Dublin, so delivery should generally be free to the Dublin area — outside of Dublin, there will be a charge for postage. Contact the Secretary to arrange payment and delivery. We will continue to keep both sets in stock.
Basic Set
The Basic set comprises a birch laminate, hinged folding board, 320 glass stones in cloth bags, and a rulebook. The set comes in a cardboard box for convenient storage. Note that the number of stones is less than the standard 360 in order to keep the price low — 320 is plenty for most games, and in a pinch the players can usually exchange prisoners to ensure enough stones to finish the game.
Price: €60 plus postage.
Weight: 3.6kg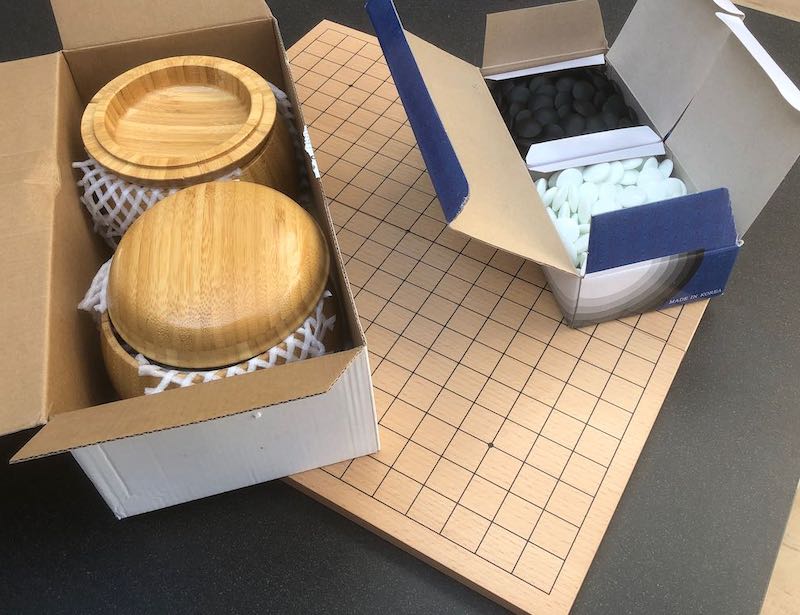 Tournament Set
The Tournament set comprises a beech veneer, hinged folding board, 360 glass stones, and a pair of bamboo bowls. The board is slightly thicker and the stones are slightly larger in diameter than those of the Basic set. This is a quality set that will last you a lifetime of play.
Price: €125 plus postage
Weight: 5kg