Fresh out of self-quarantine after a trip home to China, Lucas Ye was hungry for Go this weekend. Sweeping the board, he won all ten of his games at the Irish Go Congress, taking first place in both the Rapid and Open tournaments. After an equally dominant performance in Cork last November, Lucas is undefeated in fifteen tournament games on Irish soil.
The Congress took place in the Teachers' Club in Dublin, with 26 players competing across the two tournaments. The Rapid tournament took place on Friday night, while the Open was played over Saturday and Sunday. Visiting players included a strong contingent from Scandinavia, and father-daughter duo Felix and Lok-Sze Sum enjoying an extended trip to Ireland from Hong Kong.
Despite the increased handicaps in the Rapid, the steadily decreasing time limits favoured the strong with the two 3 dans, Lucas and Roman Pszonka taking first and second respectively. Christoph Dittman put in a creditable performance to take third place at 7 kyu. Shinuito had the rare distinction of losing all five of his games on time.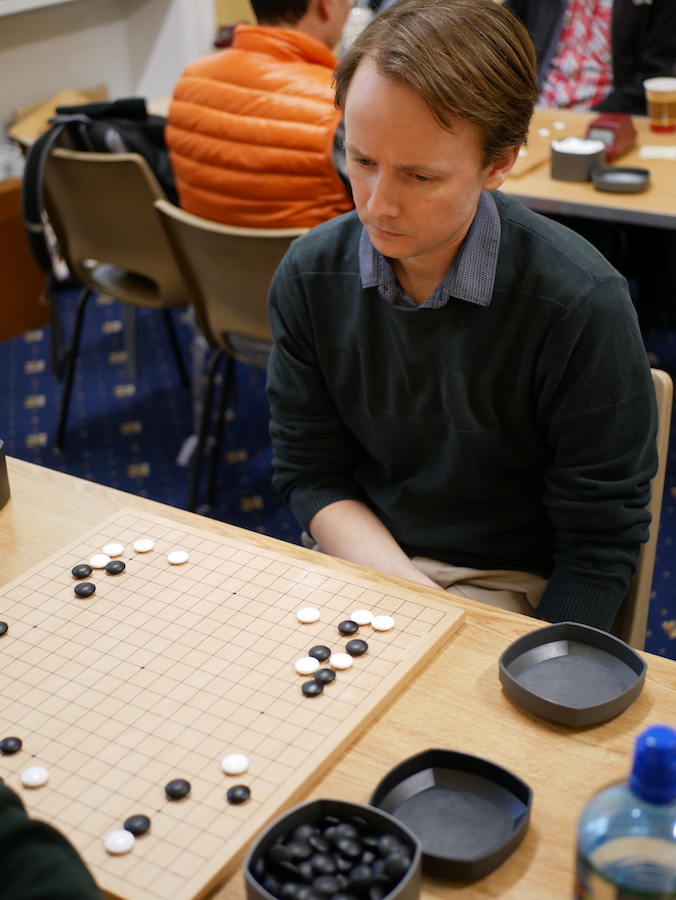 The larger field for the Open didn't hold Lucas or Roman back and by the end of the first day they shared the top of the table with three wins each. The decisive game came on Sunday morning, with Lucas defeating Roman on the top board. Roman's woes continued with a loss in the fifth round to Oslo's Michael Plikk but the tiebreak saw Roman take second place overall while Michael had to settle for third. The full results are available on the EGD website.
The Congress ended with the traditional Sunday evening dinner and pints at nearby Korean restaurant Kim Chi. Next year the Dublin tournament will return to the Confucius Institute in UCD — watch this space for further announcements.