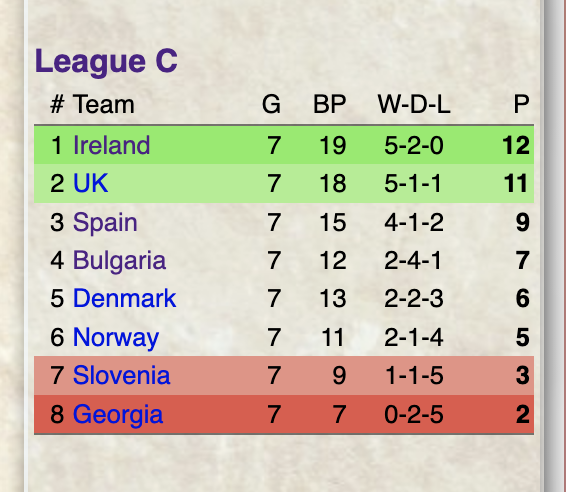 A nation rejoiced on Tuesday night as Ireland secured the requisite draw against Bulgaria to guarantee promotion to League B for the next season of the Pandanet Go European Team Championship. Captain Philippe Renaut was carried shoulder-high through the streets of Galway and awarded freedom of the city in an impromptu ceremony in Eyre Square. President Michael D. Higgins announced a national holiday and the striking of a series of souvenir euro coins featuring portraits of the valiant team.
Karl Irwin laid the foundation for the draw on Sunday morning with a precision victory on board 1. Taking the black stones, Karl made things complicated from the outset, choosing one of the sharpest variations of the two-space low pincer. As the fighting spread to encompass the entire board, Karl walked the tightrope to perfection, securing his opponent's resignation after fewer than 130 moves.
The remaining three boards played at the scheduled time on Tuesday evening. Bulgaria quickly levelled the score as Matei Garcia conceded to Tsvetomir Varbanov, whose entry rank of 9k perhaps understated his strength. Fortunately John Courtney capped a strong board position with a textbook kill to put the result beyond doubt — his win meant at least a draw, and the crucial point for promotion.
That left board 2, where Alexander Yakimov ratcheted up the tension by playing a dozen moves on his phone before pausing for forty minutes to drive home from work, leaving Philippe anxiously pacing up and down awaiting his return. When play resumed, Yakimov quickly built up formidable thickness, forcing Philippe to make two desperate invasions to reduce gargantuan moyos. Although both invasions succeeded, it wasn't enough to eliminate the deficit and Yakimov won by 3.5 points.
Nonetheless, the thirteenth season of the PGETC saw Ireland's finest performance in the history of the tournament, conceding only two draws and no losses across the seven matches. Next season will break new ground with our first appearance in League B. The UK also won their match against Georgia, allowing them a final shot at redemption — they will wait anxiously to see who they face in the play-off match, with four teams hovering near the relegation zone in League B. The final round in League B is scheduled for Tuesday, 23rd May.