Event: WAGC 2006
Date: 2006.05.28
Black: Stephen Flinter
Black rank: 1d
White: Kivanc Doganay
White rank: 2d
Komi: 6.5
TimeLimit: 90 mins + 15/10
White team: Turkey
Result: W+R
Place: Sasebo
Round: 1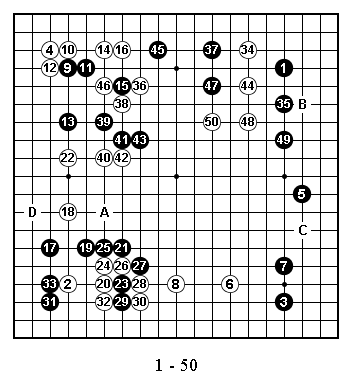 White 10. Wrong direction. Should be at 12.
Black 13. One line too far. Should be as per the variation.
White 22 should be at A.
Black 23 should be at 28
Black 33. This exchange has been better for white.
White 34. Too small, and in the wrong direction (because of the low position in the top left-hand corner. Consider B or C.
Black 39. Black is happy with this exchange.
Black 37. Wrong idea. Should play the variation.
Black 45. Black D around this time is now very big.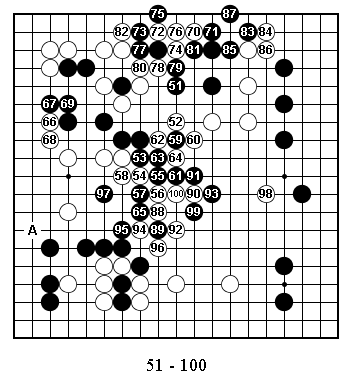 White 52. White should push at 53, rather than play at 52.
Black 53. Excellent move.
White 56. White can consider cutting at 63 with this move.
Black 59. Should be at 64.
White 60. Should atari at 61.
White 64. Should be at 65.
White 70. Should be at A.

Black 73. This line of play is preferable for black.
White 82. White has gained a lot of profit from this exchange.
White 88. White should not try to activate this stone.
Black 99. Aji-keshi.

White 4. White should peep at A first, and force the connection.
Black 7. This is a terrible tactical blunder. Black should play at 110, which gives a second eye.
Black 21. This misses the point. It should be at 130, which then kills white (and wins the game).
White 34. Once white lives here, it's difficult for black to win.