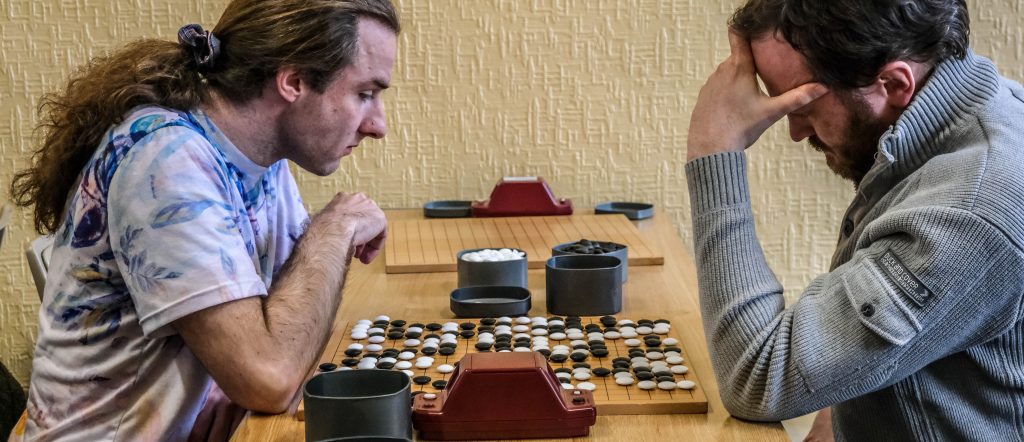 Step right up and show us your dirtiest tricks. The one-day Go tournament in honour of the late, great Go trickster, John Gibson, is returning to Dublin on Saturday, April 29th. The venue, The Teachers' Club, is located in the centre of Dublin, easily accessible by public transport and with many local accommodation options available.
The Details
Three rounds, McMahon format, handicap of difference in McMahon Score minus one.
Time Limits: 45 minutes main time plus 5 periods of 30 seconds byo-yomi (EGF Class B)
Entry Fee: €15 standard. €10 concession. Payment will be collected as cash on the day.
Venue: The Teachers' Club, 36 Parnell Square West, Dublin 1. (Map)
Prizes:
2 x €20 vouchers for Guo Juan's Internet Go School
Pride? Honour? Do these things not mean anything anymore?
The Schedule
11:00: Sign-In
11.30: Round One
13.45: Lunch
14.45: Round Two
17.00: Round Three
20.00: Dinner
Registration
Please register as soon as you know you can make it by filling out this Google Form. Preregistration assists us in the organisation of the event. The current list of entrants can be seen below.
Contact
If you have any questions or need assistance please contact Tournament Director Niall Tuohy at president@irish-go.org.
Current Entrants
Table will be updated intermittently. Last update: 22/03/2023
| Name | Rank |
| --- | --- |
| Stephen Flinter | 1 Kyu |
| Alex Delogu | 1 Kyu |
| Peter Kasko | 3 Kyu |
| Eoghan Barry | 3 Kyu |
| Loic Schaefer | 4 Kyu |
| Niall Tuohy | 4 Kyu |
| Byoung-Ju Lee | 5 Kyu |
| Tan Pham Minh Vo | 6 Kyu |
| Stig Petersen | 8 Kyu |
| Joseph Learoyd | None |