Tuesday 7th of July saw the 3rd round of our Summer Go Cup.
let's spoil the result straight away :
Roy maintained his winning streak with a 3rd victory in a row with Niall leaving no chance to his opponent on board 2.
After 3 rounds the standing of the cup are as follow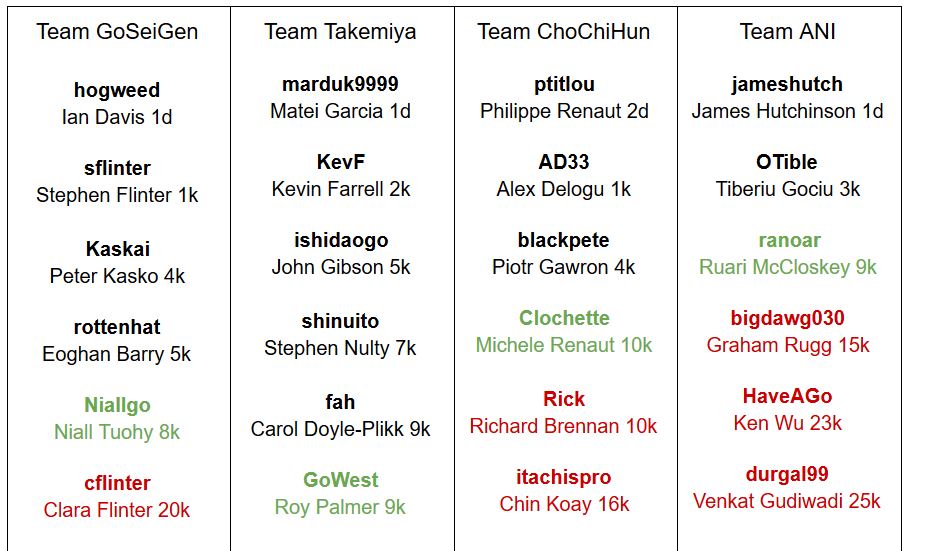 Team Takemiya is ahead followed by team Goseigen while teams Chochihun and Ani are struggling to find their pace.
Now the games!
On first board Niall had to proove that his 8kyu level could handle the pressure of a motivated 16kyu opponent. And there was no disappointment in this game : Graham very quickly showed that he had a very clean sense of shapes and overall vision and the game developed very nicely. Niall went for a very aggressive stance and surrounded a white grouop very early in the game. Could Graham have saved it in the center ? We will never know but his choice of sacrificing it proved to be a bad one as Niall then played super solid go and never let a chance to his opponent to receover from it. Full review below.
[glift sgf="https://www.irish-go.org/wp-content/grand-media/application/niall-graham.sgf"]
On the other board, a very unfortunate set of events took place. In the first game Ric had a very good beginning and was leading on the board but a serie of disconnections lead Pandanet to consider him as an escaper and resigned the game. roy agreed to start another one where once again Ric had a very good start. Then Roy triggered a great fight in the center that was looking very promising but he never had to lead it to the end as once again disconnections crippled the game and Ric was forced to loose the game by "disconnection", the hard life of online go. A review of the first part of second game can be found here.
[glift sgf="https://www.irish-go.org/wp-content/grand-media/application/ric-roy.sgf"]
See you next Tuesday for Round 4!
philippe