With the holiday season leaving us refreshed and the new year upon us, let us take a look at what happened in Irish Go from the year behind us.
A Welcome Back
Covid was still peeking its head through the window at the start of the year, which meant online activities remained ongoing. Go activities in Europe were strong over the pandemic with tournaments available to play online, from the comfort of your own couch, and live commentary of tournaments streaming on Twitch by the European Go Federation. The IGA had the Top 8 and Correspondence Championship held online, along with weekly meetings via our Discord channel, with play taking place on OGS.
However, 2022 saw covid restrictions in Ireland ending and life returning to normal. Irish Go clubs opened up during the spring and in-person play was wholly welcomed.
A Dear Friend, Teacher, Player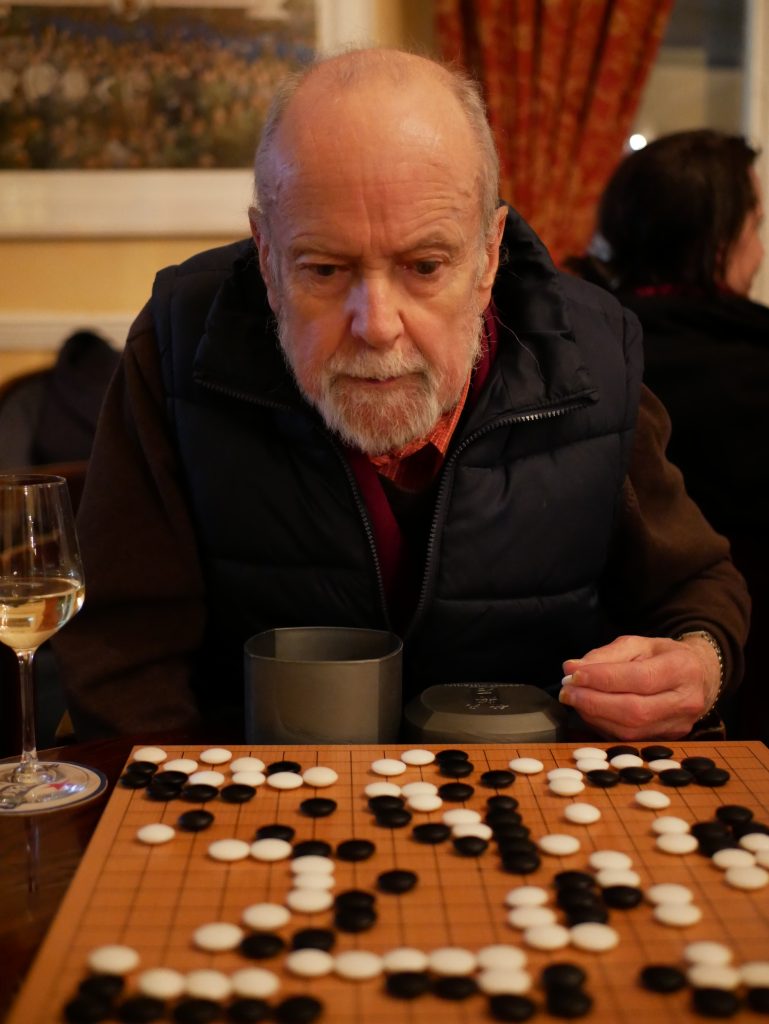 We returned to live tournament play in April with the 'Rip-Off'. The tournament is named in honour of IGA founding member John Gibson, whose love of trick plays and general skulduggery belied his gentlemanly character. This year the tournament also served as memorial: John passed away two weeks before the tournament, and is greatly missed by all who knew him.
Tournaments And Leagues
Further IGA activities recommenced with some new welcomed additions. The standard line-up of activities that started back included:
Top 8 — John Courtney won the Irish Championship for the first time
Ulster Open — a one-day tournament held in the Lisburn Chess Club
Correspondence Championship — Lu Xinqun came out ahead of the pack with a clean sweep
Confucius Cup — Ireland's largest tournament sponsored by the Confucius Institute, UCD. The tournament welcomed travelers from home and abroad to fight it out over the board. Poland's Stanislaw Frejlak 1p took first place
Pandanet European Go Team Championship (PGETC) — Ireland placed 5th out of 8 in league C. The 2022/23 league recommences 25th January 2023 with Ireland leading the table
IGA Online Go League
Attending the AGM in March, IGA member Byoung-Ju Lee put forth some interesting ideas, among them: starting a new, EGF-rated, online league. With great enthusiasm, a pristine spreadsheet was born and the league filled capacity. Held within a 12 week period, each of the 6 rounds took place — two weeks per round to allow players to arrange a time and date that suited both parties. The league organisation is assisted by IGA secretary, Eoghan Barry, who also runs the Top 8 and Confucius Cup tournaments mentioned above.
The league runs twice a year and has been a major success from the start, bringing new members into the fold and a welcome addition to the Irish calendar of Go activities.
The league is not limited to members. If you would like to enter the league you can contact us and we will provide you with all the information required. The new season will be commencing in the spring of 2023, however spaces are limited.
The New Generation
We are happy to welcome new youth players to the roster of IGA members. Mushi Xu, Qieshi Xu and Conor Geoghegan announced their presence to the Irish Go scene when attending the Confucius Cup 2022. Luck had it that we had just been contacted by the Danish Go Association seeking interest to form a combined team to enter the European Youth Go Team Championship (EYGTC).
Forming a team named DanIre, the first match was a resounding victory of 4-1 against another combined team, named BING (Belgium, Italy, Netherlands, Greece). The third round, facing Austria, is scheduled for 14th January.
Outreach and Moving Forward
We are looking to broaden our horizons and spread the game of Go across Ireland. We seek to bring in more club, tournament and league participants in order to meet up and enjoy the game together.
In 2022 the IGA's social media presence began to light up over Facebook, Instagram, Twitter and LinkedIn (go on, give us a follow 😉 ), along with our monthly email bulletin (sign up on the right sidebar of this page or at the end of this post on mobile). We also visited boardgame meet ups and tech orientated offices to teach the game.
Are you interested in learning the game? Do you have friends, colleagues or children that would be? Are you, your company, college/university or children's school interested in starting a journey in Go? We are welcoming feedback and partnerships from members and non-members alike in order to achieve our goal of bringing people together. Get in touch with us to provide feedback and discuss opportunities!
We are looking forward to the year ahead, join us for the ride!